Welcome to the
Obedience Dog Club of Brisbane Inc.
Established in 1961, we are a not for profit community group responsible for training handlers and their dogs.
We run courses aimed at developing positive relationships with dogs and creating a well behaved family pet.
We also specialise in preparation for obedience, agility and Rally-O trials.
New Puppy Class starts on Monday night 6th October
Next Family Dog Training course Sunday 26th October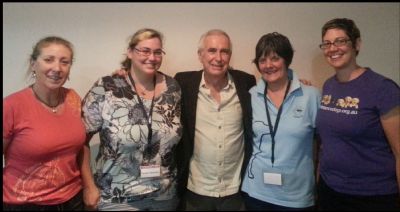 Posing with Dr Ian Dunbar after attending the three day seminar "Science Based Dog Training with Feeling" - lots of information to process and lots of new ideas to incorporate.
Watch ABC 7.30 Report stories on
2011 Flood Recovery Effort at ODCB and Dogs Queensland Virtual Show
ODCB Flood Recovery Follow Up and 50th Anniversary Preparations

Contact Details
Leonie Crowe
15 Englefield Road, Oxley 4075, QLD, Australia
Phone : 0411-017-454
Email :
info@odcb.org
15412 Visitors